OpenBSD on the Lenovo A485
Hack up or put up!
Posted on Mon, 15 Oct 2018 09:00:00 MDT by Aaron Bieber
I am going to attempt to do a jcs@ style review of the Lenovo A485. I have stolen his format, slacked on detail.. and generally not done as good of a job reviewing as he has. Please check out his work at jcs.org
Hardware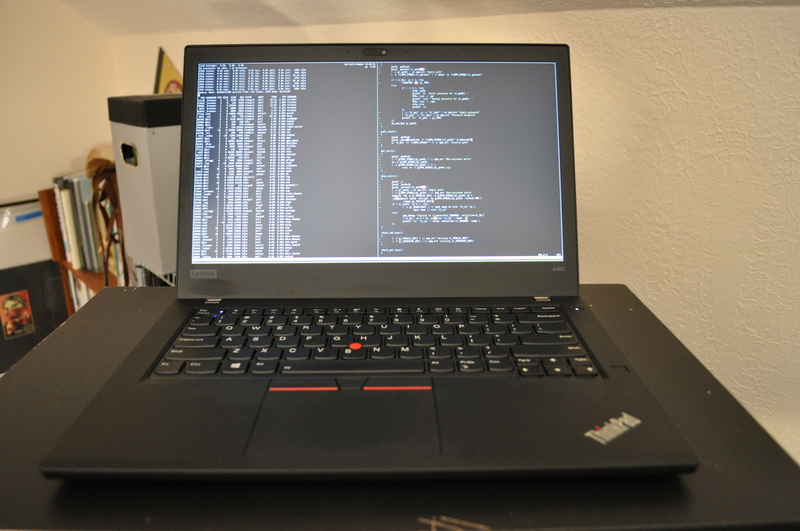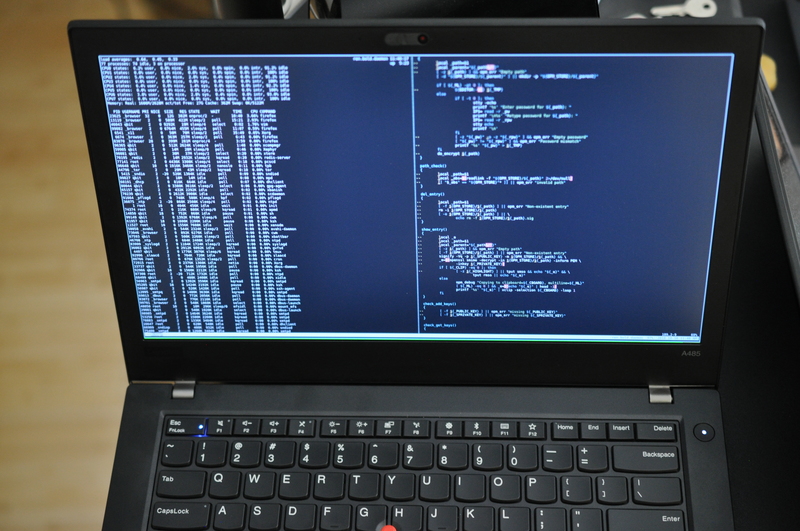 In typical Lenovo fashion, the A485 has three point eight gajillion configuration options one can select from during "Customization". You can even get it with a built in SmartCard™ reader!
You can select SATA SSD or NVMe SSD, anywhere from 4GB to 32GB of Memory, AMD Ryzen™ 3, 5 or 7!
Since this is going to be my main machine for as many years as I can possibly squeeze out of it, I opted for "all the things!"!
The display options leave a little to be desired. Max resolution is 1920x1080. Not bad but not great either.
Installing OpenBSD
Put install media into laptop.
Politely ask Henry on stand on the "enter" key.
\o/
Support Summary
OpenBSD-current as of 2018-10-15
| Component | Works? | Notes |
| --- | --- | --- |
| Accelerated graphics | No | The Radeon™ Vega 6 integrated GPU isn't supported currently. X11 is usable via the efifb driver which does an impressive job and displays things at the native resolution (1920x1080)! I am able to watch youtube videos without issue. |
| AC adapter | Yes | USB-C connector. Has a satisfying click when connecting.. flops about wildly while connected. Attaches as acpiac. |
| Audio | Yes-ish | Audio works as expected though there is a known bug with azalia on Ryzen that causes it to stop working after a period of time. |
| Battery status | Yes | Status is visible in apm and hw.sensors. Attaches as acpibat. |
| Bluetooth | No | No support in OpenBSD. BT can be disabled in the bios. |
| Cameras | No | When attempting to use the camera via /dev/video, the "activity" light turns on, but it seems the video device isn't compatible. Awesome side note, there is a built-in slider to cover the camera lens! |
| Ethernet | Yes | Weirdly, there are two ethernet devices, re0 and re1. re1 is the physical ethernet port on the laptop. I can only assume that re0 is the would-be-dock-ethernet? |
| Hibernation | Maybe | This could be because I didn't create a swap partition that was 32GB. |
| MicroSD slot | Yes | Inserted cards show up fine. |
| Suspend/Resume | No | Technically the machine suspends / resumes, but X11 never comes back. |
| Volume buttons | Yes | Via acpithinkpad. |
| Wireless | No | The machine comes with a Realtek RTL8822BE, which isn't supported currently. I was able to replace this with an Intel Dual Band Wireless-AC 8265. |
Here are some photos of the built-in camera cover I mention in the Summary above.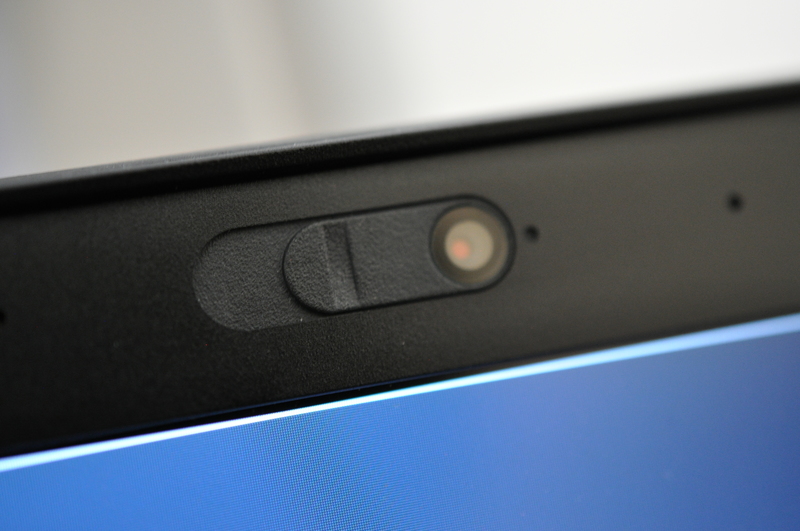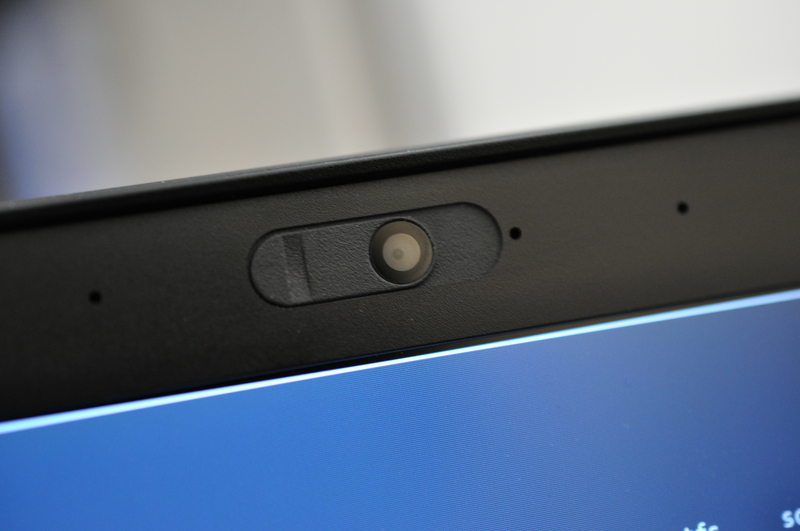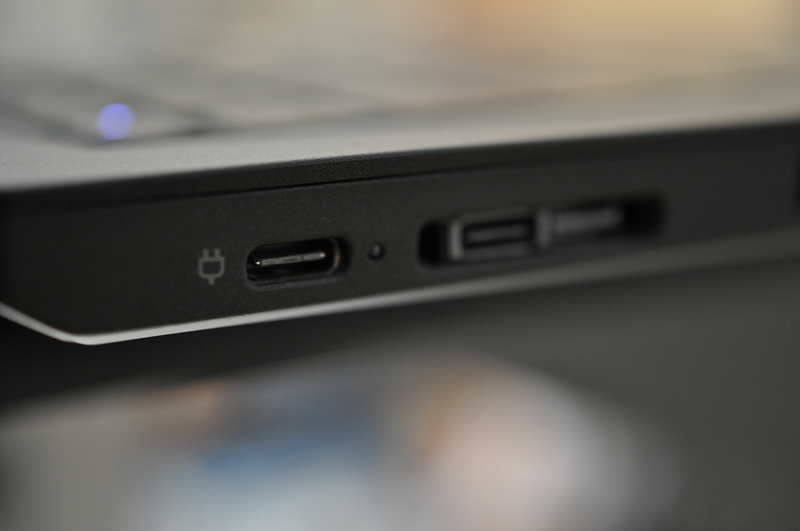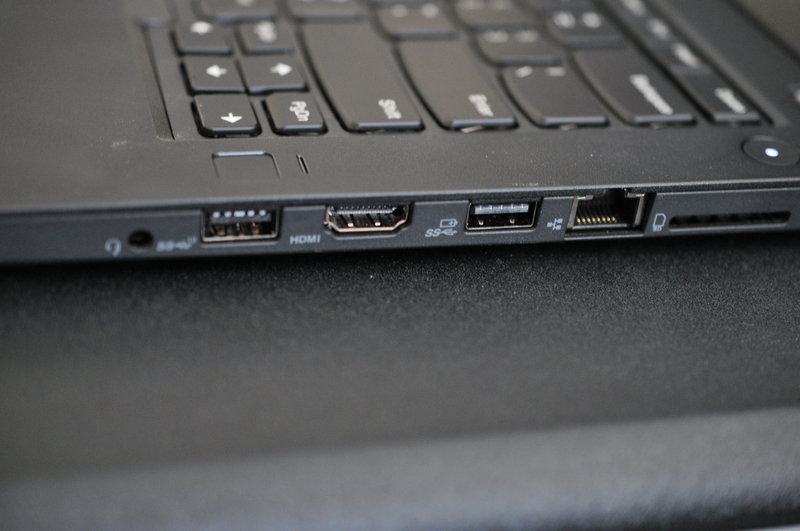 dmesg
OpenBSD 6.4 (GENERIC.MP) #0: Thu Oct 11 14:54:13 MDT 2018
    qbit@ren.tapenet.org:/sys/arch/amd64/compile/GENERIC.MP
real mem = 33139396608 (31604MB)
avail mem = 32125767680 (30637MB)
mpath0 at root
scsibus0 at mpath0: 256 targets
mainbus0 at root
bios0 at mainbus0: SMBIOS rev. 3.1 @ 0x68607000 (62 entries)
bios0: vendor LENOVO version "R0WET34W (1.02 )" date 07/05/2018
bios0: LENOVO 20MUCTO1WW
acpi0 at bios0: rev 2
acpi0: BGRT checksum error
acpi0: sleep states S0 S3 S4 S5
acpi0: tables DSDT FACP SSDT SSDT CRAT CDIT SSDT TPM2 UEFI MSDM BATB HPET APIC MCFG SBST VFCT IVRS FPDT SSDT SSDT SSDT UEFI SSDT BGRT
acpi0: wakeup devices GPP0(S3) GPP1(S3) GPP2(S3) GPP3(S3) GPP4(S3) L850(S3) GPP5(S3) GPP6(S3) GP17(S3) XHC0(S3) XHC1(S3) GP18(S3) LID_(S3) SLPB(S3)
acpitimer0 at acpi0: 3579545 Hz, 32 bits
acpihpet0 at acpi0: 14318180 Hz
acpimadt0 at acpi0 addr 0xfee00000: PC-AT compat
cpu0 at mainbus0: apid 0 (boot processor)
cpu0: AMD Ryzen 7 PRO 2700U w/ Radeon Vega Mobile Gfx, 2196.29 MHz, 17-11-00
cpu0: FPU,VME,DE,PSE,TSC,MSR,PAE,MCE,CX8,APIC,SEP,MTRR,PGE,MCA,CMOV,PAT,PSE36,CFLUSH,MMX,FXSR,SSE,SSE2,HTT,SSE3,PCLMUL,MWAIT,SSSE3,FMA3,CX16,SSE4.1,SSE4.2,MOVBE,POPCNT,AES,XSAVE,AVX,F16C,RDRAND,NXE,MMXX,FFXSR,PAGE1GB,RDTSCP,LONG,LAHF,CMPLEG,SVM,EAPICSP,AMCR8,ABM,SSE4A,MASSE,3DNOWP,OSVW,SKINIT,TCE,TOPEXT,CPCTR,DBKP,PCTRL3,MWAITX,ITSC,FSGSBASE,BMI1,AVX2,SMEP,BMI2,RDSEED,ADX,SMAP,CLFLUSHOPT,SHA,IBPB,XSAVEOPT,XSAVEC,XGETBV1,XSAVES
cpu0: 64KB 64b/line 4-way I-cache, 32KB 64b/line 8-way D-cache, 512KB 64b/line 8-way L2 cache, 4MB 64b/line 16-way L3 cache
cpu0: ITLB 64 4KB entries fully associative, 64 4MB entries fully associative
cpu0: DTLB 64 4KB entries fully associative, 64 4MB entries fully associative
cpu0: smt 0, core 0, package 0
mtrr: Pentium Pro MTRR support, 8 var ranges, 88 fixed ranges
cpu0: apic clock running at 24MHz
cpu0: mwait min=64, max=64, C-substates=1.1, IBE
cpu1 at mainbus0: apid 1 (application processor)
cpu1: AMD Ryzen 7 PRO 2700U w/ Radeon Vega Mobile Gfx, 2195.85 MHz, 17-11-00
cpu1: FPU,VME,DE,PSE,TSC,MSR,PAE,MCE,CX8,APIC,SEP,MTRR,PGE,MCA,CMOV,PAT,PSE36,CFLUSH,MMX,FXSR,SSE,SSE2,HTT,SSE3,PCLMUL,MWAIT,SSSE3,FMA3,CX16,SSE4.1,SSE4.2,MOVBE,POPCNT,AES,XSAVE,AVX,F16C,RDRAND,NXE,MMXX,FFXSR,PAGE1GB,RDTSCP,LONG,LAHF,CMPLEG,SVM,EAPICSP,AMCR8,ABM,SSE4A,MASSE,3DNOWP,OSVW,SKINIT,TCE,TOPEXT,CPCTR,DBKP,PCTRL3,MWAITX,ITSC,FSGSBASE,BMI1,AVX2,SMEP,BMI2,RDSEED,ADX,SMAP,CLFLUSHOPT,SHA,IBPB,XSAVEOPT,XSAVEC,XGETBV1,XSAVES
cpu1: 64KB 64b/line 4-way I-cache, 32KB 64b/line 8-way D-cache, 512KB 64b/line 8-way L2 cache, 4MB 64b/line 16-way L3 cache
cpu1: ITLB 64 4KB entries fully associative, 64 4MB entries fully associative
cpu1: DTLB 64 4KB entries fully associative, 64 4MB entries fully associative
cpu1: smt 1, core 0, package 0
cpu2 at mainbus0: apid 2 (application processor)
cpu2: AMD Ryzen 7 PRO 2700U w/ Radeon Vega Mobile Gfx, 2195.85 MHz, 17-11-00
cpu2: FPU,VME,DE,PSE,TSC,MSR,PAE,MCE,CX8,APIC,SEP,MTRR,PGE,MCA,CMOV,PAT,PSE36,CFLUSH,MMX,FXSR,SSE,SSE2,HTT,SSE3,PCLMUL,MWAIT,SSSE3,FMA3,CX16,SSE4.1,SSE4.2,MOVBE,POPCNT,AES,XSAVE,AVX,F16C,RDRAND,NXE,MMXX,FFXSR,PAGE1GB,RDTSCP,LONG,LAHF,CMPLEG,SVM,EAPICSP,AMCR8,ABM,SSE4A,MASSE,3DNOWP,OSVW,SKINIT,TCE,TOPEXT,CPCTR,DBKP,PCTRL3,MWAITX,ITSC,FSGSBASE,BMI1,AVX2,SMEP,BMI2,RDSEED,ADX,SMAP,CLFLUSHOPT,SHA,IBPB,XSAVEOPT,XSAVEC,XGETBV1,XSAVES
cpu2: 64KB 64b/line 4-way I-cache, 32KB 64b/line 8-way D-cache, 512KB 64b/line 8-way L2 cache, 4MB 64b/line 16-way L3 cache
cpu2: ITLB 64 4KB entries fully associative, 64 4MB entries fully associative
cpu2: DTLB 64 4KB entries fully associative, 64 4MB entries fully associative
cpu2: smt 0, core 1, package 0
cpu3 at mainbus0: apid 3 (application processor)
cpu3: AMD Ryzen 7 PRO 2700U w/ Radeon Vega Mobile Gfx, 2195.85 MHz, 17-11-00
cpu3: FPU,VME,DE,PSE,TSC,MSR,PAE,MCE,CX8,APIC,SEP,MTRR,PGE,MCA,CMOV,PAT,PSE36,CFLUSH,MMX,FXSR,SSE,SSE2,HTT,SSE3,PCLMUL,MWAIT,SSSE3,FMA3,CX16,SSE4.1,SSE4.2,MOVBE,POPCNT,AES,XSAVE,AVX,F16C,RDRAND,NXE,MMXX,FFXSR,PAGE1GB,RDTSCP,LONG,LAHF,CMPLEG,SVM,EAPICSP,AMCR8,ABM,SSE4A,MASSE,3DNOWP,OSVW,SKINIT,TCE,TOPEXT,CPCTR,DBKP,PCTRL3,MWAITX,ITSC,FSGSBASE,BMI1,AVX2,SMEP,BMI2,RDSEED,ADX,SMAP,CLFLUSHOPT,SHA,IBPB,XSAVEOPT,XSAVEC,XGETBV1,XSAVES
cpu3: 64KB 64b/line 4-way I-cache, 32KB 64b/line 8-way D-cache, 512KB 64b/line 8-way L2 cache, 4MB 64b/line 16-way L3 cache
cpu3: ITLB 64 4KB entries fully associative, 64 4MB entries fully associative
cpu3: DTLB 64 4KB entries fully associative, 64 4MB entries fully associative
cpu3: smt 1, core 1, package 0
cpu4 at mainbus0: apid 4 (application processor)
cpu4: AMD Ryzen 7 PRO 2700U w/ Radeon Vega Mobile Gfx, 2195.85 MHz, 17-11-00
cpu4: FPU,VME,DE,PSE,TSC,MSR,PAE,MCE,CX8,APIC,SEP,MTRR,PGE,MCA,CMOV,PAT,PSE36,CFLUSH,MMX,FXSR,SSE,SSE2,HTT,SSE3,PCLMUL,MWAIT,SSSE3,FMA3,CX16,SSE4.1,SSE4.2,MOVBE,POPCNT,AES,XSAVE,AVX,F16C,RDRAND,NXE,MMXX,FFXSR,PAGE1GB,RDTSCP,LONG,LAHF,CMPLEG,SVM,EAPICSP,AMCR8,ABM,SSE4A,MASSE,3DNOWP,OSVW,SKINIT,TCE,TOPEXT,CPCTR,DBKP,PCTRL3,MWAITX,ITSC,FSGSBASE,BMI1,AVX2,SMEP,BMI2,RDSEED,ADX,SMAP,CLFLUSHOPT,SHA,IBPB,XSAVEOPT,XSAVEC,XGETBV1,XSAVES
cpu4: 64KB 64b/line 4-way I-cache, 32KB 64b/line 8-way D-cache, 512KB 64b/line 8-way L2 cache, 4MB 64b/line 16-way L3 cache
cpu4: ITLB 64 4KB entries fully associative, 64 4MB entries fully associative
cpu4: DTLB 64 4KB entries fully associative, 64 4MB entries fully associative
cpu4: smt 0, core 2, package 0
cpu5 at mainbus0: apid 5 (application processor)
cpu5: AMD Ryzen 7 PRO 2700U w/ Radeon Vega Mobile Gfx, 2195.85 MHz, 17-11-00
cpu5: FPU,VME,DE,PSE,TSC,MSR,PAE,MCE,CX8,APIC,SEP,MTRR,PGE,MCA,CMOV,PAT,PSE36,CFLUSH,MMX,FXSR,SSE,SSE2,HTT,SSE3,PCLMUL,MWAIT,SSSE3,FMA3,CX16,SSE4.1,SSE4.2,MOVBE,POPCNT,AES,XSAVE,AVX,F16C,RDRAND,NXE,MMXX,FFXSR,PAGE1GB,RDTSCP,LONG,LAHF,CMPLEG,SVM,EAPICSP,AMCR8,ABM,SSE4A,MASSE,3DNOWP,OSVW,SKINIT,TCE,TOPEXT,CPCTR,DBKP,PCTRL3,MWAITX,ITSC,FSGSBASE,BMI1,AVX2,SMEP,BMI2,RDSEED,ADX,SMAP,CLFLUSHOPT,SHA,IBPB,XSAVEOPT,XSAVEC,XGETBV1,XSAVES
cpu5: 64KB 64b/line 4-way I-cache, 32KB 64b/line 8-way D-cache, 512KB 64b/line 8-way L2 cache, 4MB 64b/line 16-way L3 cache
cpu5: ITLB 64 4KB entries fully associative, 64 4MB entries fully associative
cpu5: DTLB 64 4KB entries fully associative, 64 4MB entries fully associative
cpu5: smt 1, core 2, package 0
cpu6 at mainbus0: apid 6 (application processor)
cpu6: AMD Ryzen 7 PRO 2700U w/ Radeon Vega Mobile Gfx, 2195.85 MHz, 17-11-00
cpu6: FPU,VME,DE,PSE,TSC,MSR,PAE,MCE,CX8,APIC,SEP,MTRR,PGE,MCA,CMOV,PAT,PSE36,CFLUSH,MMX,FXSR,SSE,SSE2,HTT,SSE3,PCLMUL,MWAIT,SSSE3,FMA3,CX16,SSE4.1,SSE4.2,MOVBE,POPCNT,AES,XSAVE,AVX,F16C,RDRAND,NXE,MMXX,FFXSR,PAGE1GB,RDTSCP,LONG,LAHF,CMPLEG,SVM,EAPICSP,AMCR8,ABM,SSE4A,MASSE,3DNOWP,OSVW,SKINIT,TCE,TOPEXT,CPCTR,DBKP,PCTRL3,MWAITX,ITSC,FSGSBASE,BMI1,AVX2,SMEP,BMI2,RDSEED,ADX,SMAP,CLFLUSHOPT,SHA,IBPB,XSAVEOPT,XSAVEC,XGETBV1,XSAVES
cpu6: 64KB 64b/line 4-way I-cache, 32KB 64b/line 8-way D-cache, 512KB 64b/line 8-way L2 cache, 4MB 64b/line 16-way L3 cache
cpu6: ITLB 64 4KB entries fully associative, 64 4MB entries fully associative
cpu6: DTLB 64 4KB entries fully associative, 64 4MB entries fully associative
cpu6: smt 0, core 3, package 0
cpu7 at mainbus0: apid 7 (application processor)
cpu7: AMD Ryzen 7 PRO 2700U w/ Radeon Vega Mobile Gfx, 2195.85 MHz, 17-11-00
cpu7: FPU,VME,DE,PSE,TSC,MSR,PAE,MCE,CX8,APIC,SEP,MTRR,PGE,MCA,CMOV,PAT,PSE36,CFLUSH,MMX,FXSR,SSE,SSE2,HTT,SSE3,PCLMUL,MWAIT,SSSE3,FMA3,CX16,SSE4.1,SSE4.2,MOVBE,POPCNT,AES,XSAVE,AVX,F16C,RDRAND,NXE,MMXX,FFXSR,PAGE1GB,RDTSCP,LONG,LAHF,CMPLEG,SVM,EAPICSP,AMCR8,ABM,SSE4A,MASSE,3DNOWP,OSVW,SKINIT,TCE,TOPEXT,CPCTR,DBKP,PCTRL3,MWAITX,ITSC,FSGSBASE,BMI1,AVX2,SMEP,BMI2,RDSEED,ADX,SMAP,CLFLUSHOPT,SHA,IBPB,XSAVEOPT,XSAVEC,XGETBV1,XSAVES
cpu7: 64KB 64b/line 4-way I-cache, 32KB 64b/line 8-way D-cache, 512KB 64b/line 8-way L2 cache, 4MB 64b/line 16-way L3 cache
cpu7: ITLB 64 4KB entries fully associative, 64 4MB entries fully associative
cpu7: DTLB 64 4KB entries fully associative, 64 4MB entries fully associative
cpu7: smt 1, core 3, package 0
ioapic0 at mainbus0: apid 32 pa 0xfec00000, version 21, 24 pins, can't remap
ioapic1 at mainbus0: apid 33 pa 0xfec01000, version 21, 32 pins, can't remap
acpimcfg0 at acpi0
acpimcfg0: addr 0xf8000000, bus 0-63
acpiprt0 at acpi0: bus 0 (PCI0)
acpiprt1 at acpi0: bus 1 (GPP0)
acpiprt2 at acpi0: bus 2 (GPP1)
acpiprt3 at acpi0: bus 3 (GPP2)
acpiprt4 at acpi0: bus 4 (GPP3)
acpiprt5 at acpi0: bus -1 (GPP4)
acpiprt6 at acpi0: bus 5 (GPP5)
acpiprt7 at acpi0: bus -1 (GPP6)
acpiprt8 at acpi0: bus 6 (GP17)
acpiprt9 at acpi0: bus 7 (GP18)
acpiec0 at acpi0
acpicpu0 at acpi0: C2(0@400 io@0x414), C1(0@1 mwait), PSS
acpicpu1 at acpi0: C2(0@400 io@0x414), C1(0@1 mwait), PSS
acpicpu2 at acpi0: C2(0@400 io@0x414), C1(0@1 mwait), PSS
acpicpu3 at acpi0: C2(0@400 io@0x414), C1(0@1 mwait), PSS
acpicpu4 at acpi0: C2(0@400 io@0x414), C1(0@1 mwait), PSS
acpicpu5 at acpi0: C2(0@400 io@0x414), C1(0@1 mwait), PSS
acpicpu6 at acpi0: C2(0@400 io@0x414), C1(0@1 mwait), PSS
acpicpu7 at acpi0: C2(0@400 io@0x414), C1(0@1 mwait), PSS
acpipwrres0 at acpi0: PUBS, resource for XHC0
acpipwrres1 at acpi0: P0ST, resource for SATA
acpipwrres2 at acpi0: P3ST, resource for SATA
acpibtn0 at acpi0: PWRB
acpicmos0 at acpi0
acpibat0 at acpi0: BAT0 model "01AV489" serial  3225 type LiP oem "LGC"
acpibat1 at acpi0: BAT1 model "01AV452" serial  1401 type LiP oem "SMP"
acpiac0 at acpi0: AC unit online
acpithinkpad0 at acpi0
"SMB0001" at acpi0 not configured
acpibtn1 at acpi0: LID_
acpibtn2 at acpi0: SLPB
"PNP0C14" at acpi0 not configured
"PNP0C14" at acpi0 not configured
"PNP0C14" at acpi0 not configured
"STM7304" at acpi0 not configured
"USBC000" at acpi0 not configured
acpivideo0 at acpi0: VGA_
cpu0: 2196 MHz: speeds: 2200 1700 1600 MHz
pci0 at mainbus0 bus 0
pchb0 at pci0 dev 0 function 0 vendor "AMD", unknown product 0x15d0 rev 0x00
vendor "AMD", unknown product 0x15d1 (class system subclass IOMMU, rev 0x00) at pci0 dev 0 function 2 not configured
pchb1 at pci0 dev 1 function 0 "AMD AMD64 17h PCIE" rev 0x00
ppb0 at pci0 dev 1 function 1 vendor "AMD", unknown product 0x15d3 rev 0x00: msi
pci1 at ppb0 bus 1
rtsx0 at pci1 dev 0 function 0 "Realtek RTS522A Card Reader" rev 0x01: msi
sdmmc0 at rtsx0: 4-bit, dma
ppb1 at pci0 dev 1 function 2 vendor "AMD", unknown product 0x15d3 rev 0x00: msi
pci2 at ppb1 bus 2
iwm0 at pci2 dev 0 function 0 "Intel Dual Band Wireless-AC 8265" rev 0x78, msi
ppb2 at pci0 dev 1 function 3 vendor "AMD", unknown product 0x15d3 rev 0x00: msi
pci3 at ppb2 bus 3
nvme0 at pci3 dev 0 function 0 "Samsung SM981/PM981 NVMe" rev 0x00: msi, NVMe 1.2
nvme0: SAMSUNG MZVLB512HAJQ-000L7, firmware 4L2QEXA7, serial S3TNNX0K825659
scsibus1 at nvme0: 1 targets
sd0 at scsibus1 targ 0 lun 0: <NVMe, SAMSUNG MZVLB512, 4L2Q> SCSI4 0/direct fixed
sd0: 488386MB, 512 bytes/sector, 1000215216 sectors
ppb3 at pci0 dev 1 function 4 vendor "AMD", unknown product 0x15d3 rev 0x00: msi
pci4 at ppb3 bus 4
re0 at pci4 dev 0 function 0 "Realtek 8168" rev 0x0e: RTL8168EP/8111EP (0x5000), msi, address 8c:16:45:c9:32:ae
rgephy0 at re0 phy 7: RTL8251 PHY, rev. 0
vendor "Realtek", unknown product 0x816a (class communications subclass serial, rev 0x0e) at pci4 dev 0 function 1 not configured
vendor "Realtek", unknown product 0x816b (class communications subclass serial, rev 0x0e) at pci4 dev 0 function 2 not configured
vendor "Realtek", unknown product 0x816c (class serial bus subclass IPMI, rev 0x0e) at pci4 dev 0 function 3 not configured
ehci0 at pci4 dev 0 function 4 vendor "Realtek", unknown product 0x816d rev 0x0e: apic 33 int 15
ehci0: pre-2.0 USB rev
ppb4 at pci0 dev 1 function 6 vendor "AMD", unknown product 0x15d3 rev 0x00: msi
pci5 at ppb4 bus 5
re1 at pci5 dev 0 function 0 "Realtek 8168" rev 0x10: RTL8168GU/8111GU (0x5080), msi, address 8c:16:45:c9:32:ad
rgephy1 at re1 phy 7: RTL8251 PHY, rev. 0
pchb2 at pci0 dev 8 function 0 "AMD AMD64 17h PCIE" rev 0x00
ppb5 at pci0 dev 8 function 1 vendor "AMD", unknown product 0x15db rev 0x00
pci6 at ppb5 bus 6
vendor "ATI", unknown product 0x15dd (class display subclass VGA, rev 0xd0) at pci6 dev 0 function 0 not configured
azalia0 at pci6 dev 0 function 1 vendor "ATI", unknown product 0x15de rev 0x00: msi
azalia0: no supported codecs
vendor "AMD", unknown product 0x15df (class crypto subclass miscellaneous, rev 0x00) at pci6 dev 0 function 2 not configured
xhci0 at pci6 dev 0 function 3 vendor "AMD", unknown product 0x15e0 rev 0x00: msi, xHCI 1.16
usb0 at xhci0: USB revision 3.0
uhub0 at usb0 configuration 1 interface 0 "AMD xHCI root hub" rev 3.00/1.00 addr 1
xhci1 at pci6 dev 0 function 4 vendor "AMD", unknown product 0x15e1 rev 0x00: msi, xHCI 1.16
usb1 at xhci1: USB revision 3.0
uhub1 at usb1 configuration 1 interface 0 "AMD xHCI root hub" rev 3.00/1.00 addr 1
azalia1 at pci6 dev 0 function 6 "AMD Raven Ridge HD Audio" rev 0x00: apic 33 int 30
azalia1: codecs: Realtek/0x0257
audio0 at azalia1
ppb6 at pci0 dev 8 function 2 vendor "AMD", unknown product 0x15dc rev 0x00
pci7 at ppb6 bus 7
ahci0 at pci7 dev 0 function 0 "AMD Carrizo AHCI" rev 0x61: msi, AHCI 1.3.1
scsibus2 at ahci0: 32 targets
"AMD Carrizo SMBus" rev 0x61 at pci0 dev 20 function 0 not configured
pcib0 at pci0 dev 20 function 3 "AMD Carrizo LPC" rev 0x51
pchb3 at pci0 dev 24 function 0 vendor "AMD", unknown product 0x15e8 rev 0x00
pchb4 at pci0 dev 24 function 1 vendor "AMD", unknown product 0x15e9 rev 0x00
pchb5 at pci0 dev 24 function 2 vendor "AMD", unknown product 0x15ea rev 0x00
pchb6 at pci0 dev 24 function 3 vendor "AMD", unknown product 0x15eb rev 0x00
pchb7 at pci0 dev 24 function 4 vendor "AMD", unknown product 0x15ec rev 0x00
pchb8 at pci0 dev 24 function 5 vendor "AMD", unknown product 0x15ed rev 0x00
pchb9 at pci0 dev 24 function 6 vendor "AMD", unknown product 0x15ee rev 0x00
pchb10 at pci0 dev 24 function 7 vendor "AMD", unknown product 0x15ef rev 0x00
isa0 at pcib0
isadma0 at isa0
pckbc0 at isa0 port 0x60/5 irq 1 irq 12
pckbd0 at pckbc0 (kbd slot)
wskbd0 at pckbd0: console keyboard
pms0 at pckbc0 (aux slot)
wsmouse0 at pms0 mux 0
wsmouse1 at pms0 mux 0
pms0: Synaptics clickpad, firmware 8.16, 0x1e2b1 0x940300
pcppi0 at isa0 port 0x61
spkr0 at pcppi0
vmm0 at mainbus0: SVM/RVI
efifb0 at mainbus0: 1920x1080, 32bpp
wsdisplay0 at efifb0 mux 1: console (std, vt100 emulation), using wskbd0
wsdisplay0: screen 1-5 added (std, vt100 emulation)
uhub2 at uhub1 port 1 configuration 1 interface 0 "Genesys Logic USB2.0 Hub" rev 2.00/60.52 addr 2
ugen0 at uhub2 port 1 "vendor 0x06cb product 0x009a" rev 2.00/1.64 addr 3
ugen1 at uhub2 port 3 "Generic EMV Smartcard Reader" rev 2.01/1.20 addr 4
uhub3 at uhub1 port 2 configuration 1 interface 0 "Genesys Logic USB2.0 Hub" rev 2.00/60.52 addr 5
uvideo0 at uhub3 port 3 configuration 1 interface 0 "Chicony Electronics Co.,Ltd. Integrated Camera" rev 2.01/0.27 addr 6
video0 at uvideo0
vscsi0 at root
scsibus3 at vscsi0: 256 targets
softraid0 at root
scsibus4 at softraid0: 256 targets
sd1 at scsibus4 targ 1 lun 0: <OPENBSD, SR CRYPTO, 006> SCSI2 0/direct fixed
sd1: 488385MB, 512 bytes/sector, 1000213601 sectors